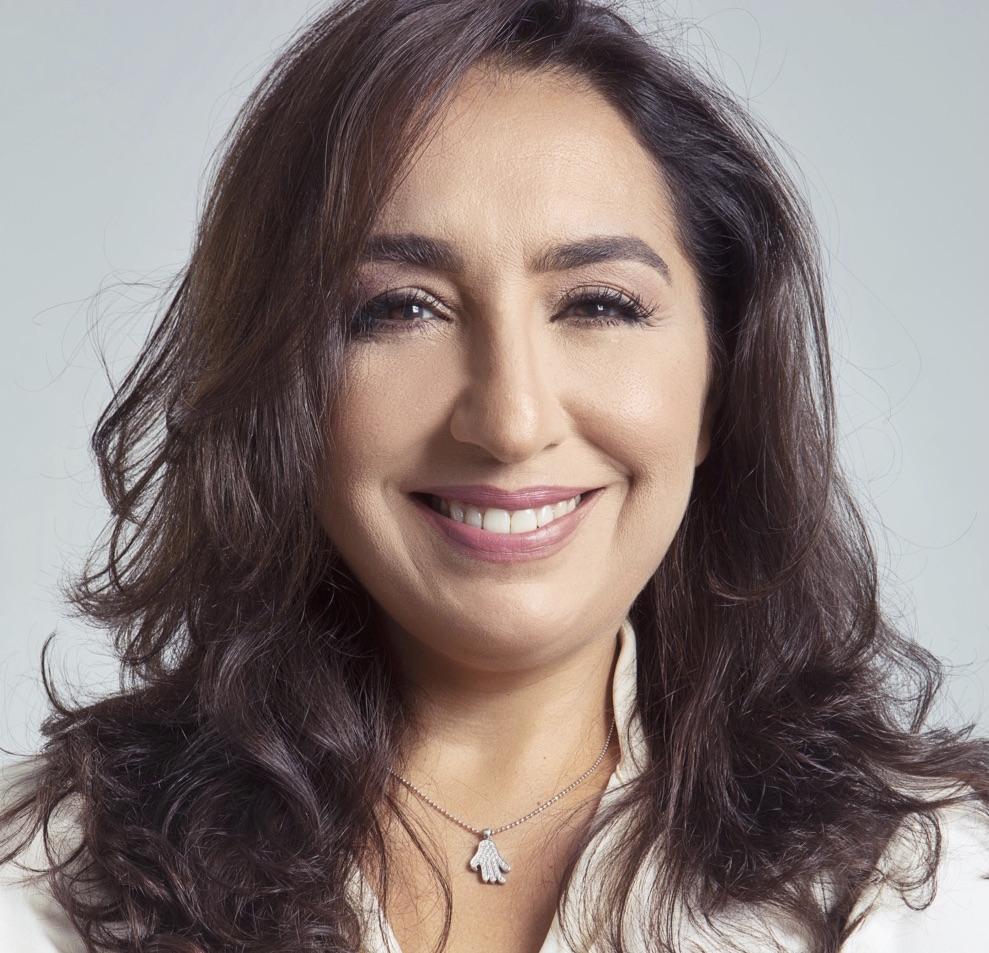 Since 2019, Leïla Doukali has been the national president of the Association of Women Business Leaders of Morocco (AFEM), founded in 2000 and with 200 members. A graduate in management and international relations from the University of Sorbonne (Paris), Leïla Doukali has more than two decades of business experience, including the management of the family group and her own company, Variations (Gérard Darel and Pablo) in the fashion field. She is committed to helping women entrepreneurs achieve greater success, and cultivates a passion for mobilizing everyone to create jobs, unlock opportunity and develop infrastructure.
According to a recent study by the Moroccan Observatory of Very Small and Medium Enterprises (OMTPME), women represent 16.2% of entrepreneurs in Morocco. Is this number growing rapidly?
This figure seems to me a little questionable, because the difference is significant with other organizations, which rather advance shares of 10% (International Labor Organization) or 12% (High Commission for Planning). The share of women entrepreneurs, even if we consider that it is situated in a range of 10% to 15%, is in any case not very good, given the potential that the involvement of Moroccan women in the economic loop.
More than half of the university benches are indeed occupied by female students in Morocco. Then we lose them... The number of women entrepreneurs is not growing as fast as we would like, or as it should, because women do not have the same opportunities as men to become entrepreneurs under healthy conditions, in order to establish their competitiveness. The context is weighed down by multiple socio-economic constraints.
That being said, the potential of female skills is enormous, and it must be mobilized. The discrepancy in the figures mentioned also shows that an in-depth study of female entrepreneurship is necessary, especially since we do not have post-Covid data. We know that in the first quarter of 2022, the number of companies opening increased by 22% compared to 2021, without information on the number of women entrepreneurs. In terms of financing, the figures are also increasing, without information on the amounts drained by women. We need to address gender in all facets of entrepreneurship - a study that AFEM aims to do - to then find the best solutions and have a real impact.
Is the low percentage of female business leaders in line with a labor market where only 20% of women are active - compared to 70% of men - and where 8% of the managers of large public and private companies are women?
Let us add that the number of active women on the labor market is declining! It was 26% in 2012. We are not in phase, if we consider the number of women who have completed higher education up to the age of 25, but who give up their careers and their professional ambitions for different reasons.
Out of 100 women, 20 work. This is far from enough, and we will not achieve the goals of the New Development Model (NMD) if only half the population is involved. A World Bank study indicates that the female activity rate in Morocco should be between 35% and 40%. From an economic point of view, Morocco is experiencing a huge loss in terms of skills, especially since women are rigorous, ethical and devoted.
From a societal point of view, its development is at half mast. She is not in her right place. You have to find all the means to put it forward and reassure it, knowing that creating a business represents an obstacle course. Morocco has a rate of women engineers (43%) higher than the world average (28%), but they are moving towards wage employment. This is why the AFEM is getting closer and closer to universities to tell them not to forget to train in management and to make female students aware of value-creating professions, particularly in the digital field, in order to open up other avenues. than that of commerce, which many women follow.
I would add that in this situation, the woman bears some responsibility, because of her lack of audacity and ambition. A man will have no trouble pushing the door and asking for a promotion, while a woman will be more reserved. Morocco does not represent a special case on this point: Christine Lagarde, the former Managing Director of the International Monetary Fund (IMF), said that no woman had come forward when she offered positions for changes in career.
In detail, 25.5% of active auto-entrepreneurs are women according to the OMTPME. How do you analyze this number?
It clearly demonstrates the difficulties of women to structure themselves, to adopt the status of an SA or a SARL. They are satisfied with a non-binding statute which secures them in terms of management. In sum, they remain small. They often run workshops, operate in trade, care. They create soaps, work with rose or argan oil. They also operate in coaching, training people without trying to take more market share. The average annual turnover of women entrepreneurs from the upper level to self-employed does not exceed 300,000 to 400,000 euros, which is not huge.
In rural areas, there is an incredible pool of women who work to support the family. They should be identified, even if many of them operate informally, to support them and help them grow. Here is a telling rate: 20% of women have a bank account, a figure to be correlated with the 20% rate of activity for women.
What are the socio-economic constraints that you mentioned, that women face in entrepreneurship in Morocco, due to their gender?
The family position of women is not encouraging. The choice of a conjugal life is part of our traditions, there is no denying it, as well as motherhood - a brake insofar as the structures for caring for young children are lacking. Women also face educational constraints: they must make their family, not their ambitions, a priority. They are also mostly devoid of land and real estate, because of the problem of inheritance, and therefore unable to offer guarantees to banks.
A political will to integrate women into the economy has been evident for 20 years, and support programs exist. What is their impact on entrepreneurship? The Intelaka program set up in February 2020 represents step number two in the process of starting a business, because you must already have spent money before you can qualify for it - to develop your business plan, rent offices, etc The Forsa program, launched in April, makes it possible to supplement this initial investment, which is very difficult to obtain for women and young people.
To change mentalities, you also need face-to-face, body-to-body. The Moroccan woman wants more and more her financial autonomy, her independence - but she gets married, has children and then finds herself in a trap. We then find her at 40, the average age in Morocco for the creation of a business by a woman.
Do you have examples of female success stories?
Saloua Karkri Belkeziz, our founding president, thought up AFEM in 2000 and made her dream come true, launching an incubator in 2005. As the saying goes, "what a woman wants, God wants!". She mobilized people around her and grew her business in new technologies.
Chaibia Balbzioui Alaoui, regional president of AFEM for the Tangier-Tetouan-Al Hoceima region, was incubated by AFEM. This metallurgical engineer launched BCSS industrie in metallurgy and today employs more than 250 people. Touria Sbiri created her company, Serp Recyclage, which works very well in the management and recovery of waste.
Miriem Bensaleh-Chagroun was certainly president of the employers' organization that is the General Confederation of Moroccan Enterprises (CGEM), from 2012 to 2018, but the country has very few "role models", with strong locomotives that inspire. Women entrepreneurs exist, but remain invisible – in part because they don't want to talk. Friends in the media tell me that they are looking for testimonials from women, but cannot find them. It's a paradox: in our society, women don't speak up; but if we are not present in the public square, how can we inspire other women and make them dare?